Airgraffix Custom Painted Mandalorian helmet
$675.00
Pictured on the Icon Airform Helmet. If you have any questions, Feel free to text me at 217.294.2922 or email sales@airgraffix.com

Prices include the helmet you select (view product page, button below) in the size you select. After that, add to cart and allow 3 to 4 weeks for your custom masterpiece to completed.
Feel free to like, share, and or follow! Thanks!
View product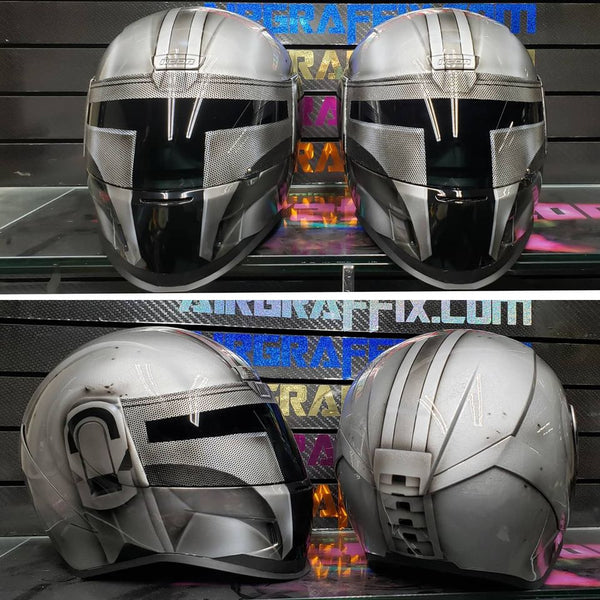 Welcome!
Welcome to www.airgraffix.com your custom helmet headquarters! Ordering is safe easy and secure. Average turnaround time for your custom painted helmet is 2-3 weeks. If you don't see what you're looking for, contact us with your ideas and we can make it happen!
Save yourself $50 off current price by providing your own like new, solid colored gloss helmet. Or if there's another helmet brand you want, no problem. Just contact us at sales@airgraffix.com for any questions you might have. You can also call or text 217-294-2922
All helmets are painted with a diamond hard, automotive grade, high gloss urethane clearcoat for a long lasting, lustrious finish. Guaranteed to turn heads wherever you go!
Be sure to follow and like us on Facebook, Twitter, Instagram, youTube and Twitter for our latest works in progress!
FAQ
What are the prices??

Click the picture for pricing and for what helmet you would like the design on. Prices include the helmet!!

Can I send in my helmet to be painted?

Yes, Should be solid, gloss for best results. Some flat/matte helmets are paintable just no rubberized/Rubatone helmets. Price is $50 less from default pricing.
International Shipping?
Now Shipping  to:
Canada can order online for $45 s/h. Other countries contact me for ordering.
I want a custom design, can you do that?
Sure, you can email or text pics for quotes. Let me know if you want it on a new helmet and what brand/model. Or, if you will be providing a helmet. Custom rates start at $500 and go up.
Custom airbrushed painted motorcycle helmet skull spiderman ironman iron man icon shoei hjc helmets racing karting carting raceday track airbrush paint painting bell r1 r6 cbr ninja airgraffix see thru painted shield visor hok airbrush artists airbrushing clown